We are secret fans of the Magic Lantern development. An extraordinary group of people who have been able to get the most out of the Canon HDSLR cameras and continue to do so.
If you don't know them or you are not familiar with what Magic Lantern is, you should navigate to their new refreshed web site now with easy to read information and friendly navigation.
The software hack provides supported and un-supported features depending on the camera. Some of the interesting features for filmmakers are the ability to shoot Raw, Audio monitoring, Dual ISO shooting, Focus Peak overlays, Zebras and many others.
If you are curious about it, visit their web site to get more information at magiclantern.fm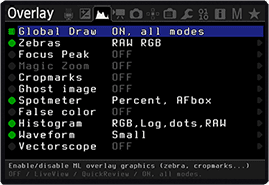 Features [ LINK ]
Don't get too excited yet, make sure that you also read the warnings thoroughly if you plan to install Magic Lantern in your own camera.
And whatever you decide to do… happy shooting!