What to do when help is needed?
Our Technical Support is eager to provide you with answers and solutions to any help you may need.
In order to help you better, please follow these steps to make your communication with our support team as easy, simple and fast as it can be.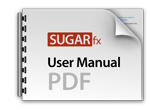 The first thing we recommend is that you read the Manual and instructions for installation that you can find and download on every page of our products' description. Select the product that you need help with from the List of Products on the right side of this page, and then click on the PDF icon to download the User Manual.

There may be a video tutorial that answers your question. Please visit our YouTube channel before you contact us.
When the products is supported in multiple Applications:

Please let us know with what Application you are using our product, the description of the problem, and include a screen-shot that shows the problem (whenever possible).
We may need to give you additional instructions if we believe the problem is more technical or system dependent.

Please contact us at your earliest convenience by visiting the Contact page or by sending an email to our Support Team at : support@sugarfx.tv
If the problem is related to the Registration number, product activation or installation:

This problem may be related to the FxFactory functionality. Please contact Noise Industries Technical Support at : techsupport@noiseindustries.com
When your computer crashes while using the product:

Browse to your applications folder and open the FxFactory Application. When FxFactory is open, go to the Help Menu and select the option to "Contact Technical Support..."


When the Contact Form appears, make sure that the checkbox to attach your system profile is checked "on", and enter the description of your problem.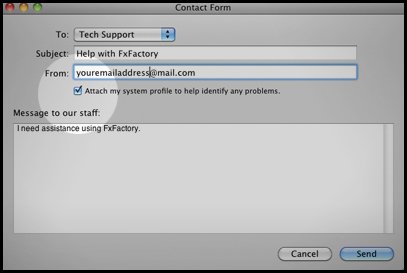 Someone from our Support team or Noise Industries will contact you with a solution to your problem or further instructions.
"Download and Try" Technical Support.
We encourage that you download and try our products to make sure that your system performs as expected, and if you encounter problems or have questions while trying out our products, we offer the same type of support and assistance as to Registered Users.
So please... feel free to contact us at any time.