Animation made easy in Final Cut Pro X.
Create dynamic animations quickly and easily in FCPX without key frames.
With ANIMO you can easily create any type of animation in very few easy steps.
ANIMO comes loaded with many Presets ready to be used in your project with minimal modifications if needed.
Of course, you can customize the presets by using the On-Screen-Controls (OSC) to set the desired position of the beginning and ending of the animation.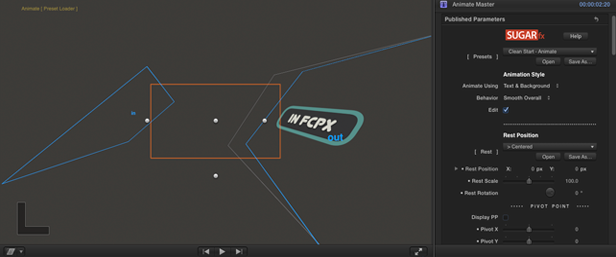 And you can also use the bird's-eye-view option to see the thumbnail of the whole animation right in the viewer window while you tweak the parameters.
Animate anything...
You can easily animate a text message, a video layer, a graphic or logo, a color background or a combination of these elements.

Use it to create unique and custom transitions, lower thirds, flying titles, custom animation of logo graphics or video layers.
Animate the elements in the screen in thousands of different ways... from any angle and any size.
The ANIMO Elements
The ANIMO elements are available in Final Cut Pro X by going to the Titles Browser or in the Theme Browser under the ANIMO category.
ANIMO comes with two Master templates that provide all of the parameters needed to create all types of animations.
You have the option to save your own Presets that can be used later with the Preset Loader elements.
The Preset Loaders have the same functionality as the Master templates and come with simplified parameters to allow the quick and easy loading and customization of previously saved presets.
Infinite Possibilities
The Reveal elements can be used to create unique transitions or dynamic animations that reveal other layers under the main video in the timeline.
The Animate elements can be used for creative moves in 2d or 3d over the main video clip in the timeline.
All these elements provide a wide range of possibilities to create the animation that you envision... quickly and easily.
And finally, add one of the Motion Blur elements to enhance the feel of speed and smooth animations to anything moving on the screen.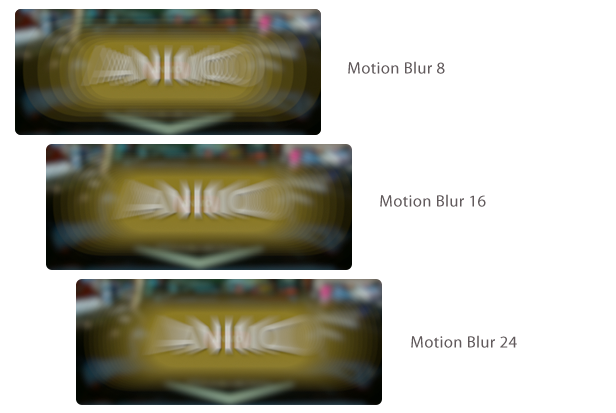 Choose from 6 different types that provide the rendering quality and feel that you want in your animations.
Presets and Customization.
ANIMO comes with intuitive parameters that allow you to easily customize the whole animation or the individual sections, such as the in or out moves, the color palettes, Background/Matte or the wiggle effects to add randomization to the animation.

If you have the time to create your own moves... save them as presets, or mix and match movements from the wide range of predefined in and out animations and styles.
Every section contains a set of built-in presets ready to be loaded and mixed with the rest of your setup, working together as one complete fluid animation from beginning to end.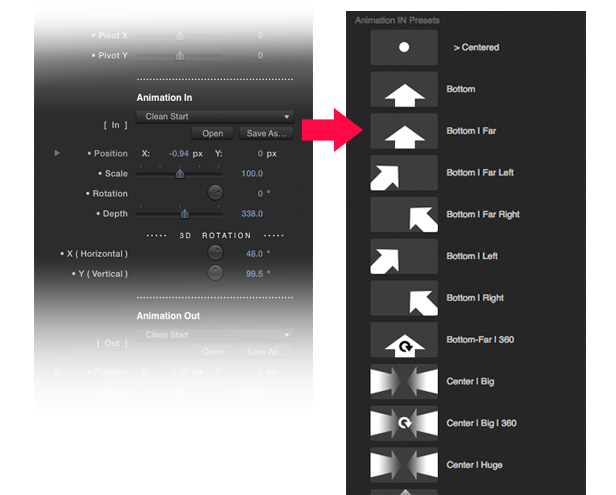 This type of customization is really powerful when you want to have a customized and unique animation.
You will never have a pre-packaged look in your animations again.
Features.
– Animation and Revealing templates for animation in 2D or 3D.
– On-Screen-Controls (OSC) for interactive adjusting of position of elements.
– Bird's eye view of complete animation while editing parameters.
– Several built-in Presets available, plus easy generation of custom Presets.
– Section Presets for easy combination of animation and styles.
– Fully customizable text capabilities.
– Optional Build-in and Build-out animations in selected elements.
– Effects for randomization of animation.
– Preset Loader templates for quick and easy setups.
– Six Motion Blur templates to add high quality motion blur effects on any element in the Final Cut Pro X editing timeline.
Download and Try.
You can download and install the free trial as part of FxFactory.
| | | |
| --- | --- | --- |
| | | |